Ronaldinho claims that the talent within Lionel Messi was apparent from day one. Barcelona have been lucky enough to enjoy the services of great players like Ronaldinho and Lionel Messi in succession.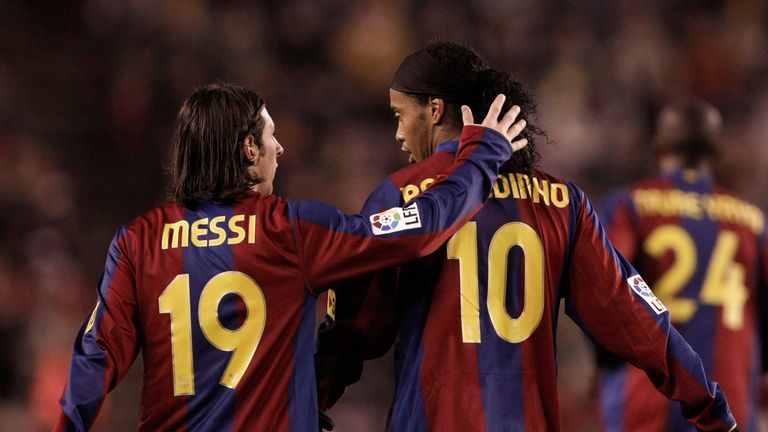 While Ronaldinho was on his way out, the club witnessed Messi emerging from the youth team. It was straightaway apparent that the young Argentine was going to be something special, but few would have imagined him to go on and emulate worldwide successes in the last couple of years. Messi is even regarded at a level of Diego Maradona or Pele due to his achievements in the game.
While Ronaldinho would also have been capable of achieving the same heights given his astronomical talent, he has not been able to provide the same kind of application as Messi. Ronaldinho has targeted more on enjoying his life whereas Messi has put a lot of dedication into making him even better and keeping him in the best possible shape.
As a result, the 29-year-old has been able to keep on going even when several players around him have relaxed. Messi is once again the top scorer in the La Liga with 27 league goals – three ahead of Luis Suarez. He is the world's record holder with regard to FIFA Ballon d'Or award after having won five titles to his name.
Yet, the World Cup or any major international title eludes him. Ronaldinho won the World Cup in 2002 with the Brazilian national team."Everyone saw he was fantastic from the very first day. I wanted to do with him what others had done with me: I wanted to help him in that first-team moment, because the talent was already obvious.When I started at Gremio I had experienced players helping me – my friends Beto and Guilherme. At Barça it was Carles Puyol, my big brother, my eternal captain who is always with me at charity events. I wanted to give back," said Ronaldinho.